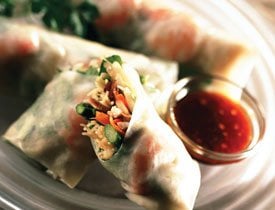 VIETNAMESE SHRIMP SUMMER ROLLS
Cheesecake Factory Recipe
Serves 4
8 rice paper wrappers
4 cups hot water
8 whole spinach leaves, cleaned with stems removed
4 ounces rice noodles, boiled & cooled
8 asparagus stems blanched, cut into 5 inch pieces
2 ounces carrots, julienne cut
4 ounces shiitake mushrooms, sliced 1/4 inch thick, steamed & cooled
1 ounce green onions, cut into 1/4 inch pieces
2 ounces bean sprouts
1/4 cup cilantro leaves
8 medium shrimp, cooked, split lengthwise in half with tails removed
4 ounces sweet & spicy red chile dipping sauce
4 ounces Thai peanut sauce
Remove the rice paper wrappers from the packaging and place (
a few at a time
) into a bowl of hot water. Soak the wrappers until they become soft and pliable (
about 1 to 2 minutes
). Be sure to separate the wrappers as they soak. Remove the wrappers from the water, allowing any excess water to drain off and place onto a clean work surface.
Set one piece of spinach onto the center of each wrapper. Place two pieces of shrimp onto the wrapper 1/2 inch above the spinach leaf. Begin layering equal portions of all the ingredients (
as they are listed above
) on top of the spinach and shrimp.
Carefully fold the sides of the wrapper inward and over the filling. Gently lift the lower edge of the wrapper up and over the filling. Begin rolling the summer roll as tightly as possible, being very careful not to tear the wrapper. Arrange the rolls on a platter or individual serving dishes with the dipping sauces.